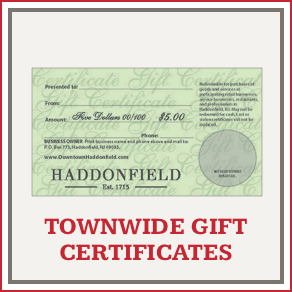 Need a gift for someone special but are unsure what to buy? The "Haddonfield Town-Wide Gift Certificate" is a perfect solution. The gift certificates are available online and at the Haddonfield Information Center (2 Kings Court) and are accepted at most of our retail and service businesses and professional offices town-wide.*  The  Haddonfield Town-Wide Gift Certificate is sure to offer an unmatched shopping experience for your special someone.
* Haddonfield Gift Certificates are not accepted at the following locations:
Personal Care: CVS, Mir Ano's Barber Shop, Rite Aid, Skintegrity and The Nail Cafe.
Food:  Acme, El Napolito, Little Tokyo, Starbucks, Zaffron,
Retail: Country Way Bridal, Ends of the Earth
Dance: Diana Alexis Dance Academy
Martial Arts: Garaguso Classical Martial Arts
Out of town or don't have time to stop by the Haddonfield Information Center to purchase your certificate? No problem. You may now purchase a certificate online through downtownhaddonfield.com! Simply choose a dollar amount from the drop-down menu below and click " Buy Now!" and we'll ship the certificate right to your doorstep.
The Partnership uses Paypal to process your transaction. However, if you do not have a Paypal account, no worries! There is a link that will allow you to enter credit card information. After your transaction is processed, you will receive an email receipt from Paypal. Your Gift Certificate will be sent by mail from the Haddonfield Information Center within 2 business days.