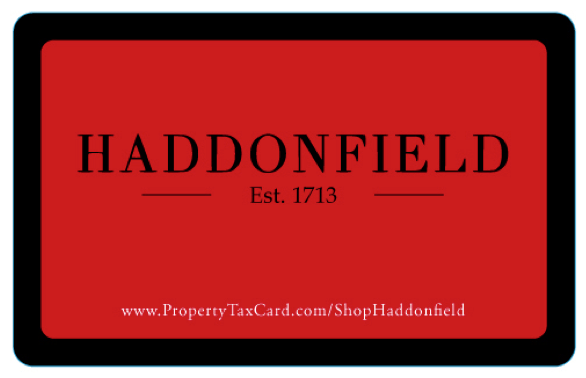 The Property Tax Reward Program is a special tax-incentive program that allows Haddonfield home owners to earn a property tax credit each time a purchase is made at a local business participating in the program.
Shop Haddonfield' cards were distributed to all Haddonfield residents the first week of December. When shopping at a participating business using the special 'Shop Haddonfield' reward card, a percentage of each purchase is applied as a credit to the home owner's property tax bill. The Partnership for Haddonfield and the Borough of Haddonfield encourage everyone to register the card at www.PropertyTaxCard.com/ShopHaddonfield to start saving today. A full list of participating local businesses and their tax reward offers can also be found on this site.
"This program has proven to be highly successful in several other communities, both as a savings to residents, and as a way to encourage increased local shopping," said Mayor Jeff Kasko. "This has truly been a community effort and we're so pleased that businesses have signed up for the Tax Program. s
Once your card has been registered online, simply present the 'Shop Haddonfield' reward card when purchasing an item or service from a participating business. You can also provide the phone number used to register your card to receive your credit.
The property tax rewards will be processed electronically, and will accrue in an escrow account until the end of the fiscal year (May 1st through April 30th). The total amount of credits earned during this period will be credited to home owner's third quarter property tax bill.
Those who do not own a property in Haddonfield can also participate in the Property Tax Reward Program by registering at www.PropertyTaxCard.com/ShopHaddonfield. Visitors and renters who participate in this program will receive a yearly rebate check for the amount of savings (minus a $7 check processing fee).
Below is a list of participating businesses in the 'Shop Haddonfield' Property Tax 
Kings Court:
Jewelry & Timepiece Mechanix – 16 Ellis Street (Kings Court)
Kings Highway:

Bistro at Haddonfield – 59 Kings Highway East 
Jay West Bridal – 151 Kings Highway East
Maxwell James Apparel – 137 Kings Highway East
Mechanic Street:
Pure Couture Consignment – 23 Mechanic Street