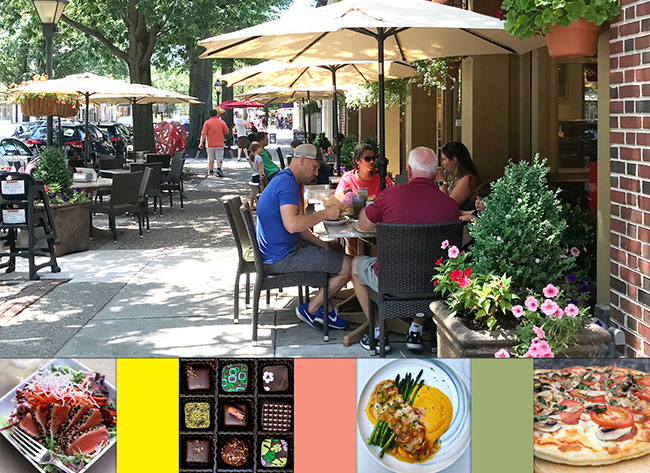 Over the last year, Downtown Haddonfield has welcomed over a dozen new food/beverage establishments, while veteran businesses continue to boom, update, and expand to larger locations in the Downtown. The Bread Board Plus, a staple in the Downtown for over 35 years, expanded their neighborhood favorite into a new space, right next door to the previous location, with a modern look and new service approach. Additional long-time Haddonfield dining establishments include Cross Culture, Oriental Pearl, P.J. Whelihan's, Bistro of Haddonfield, Tre Famiglia Ristorante, Zaffron Mediterranean Cuisine.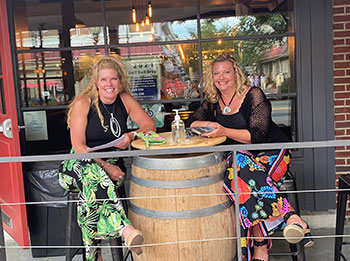 One of the latest additions to the town's foodie scene is Groovy Smoovies. Owner Antonne Jones, a film producer and writer, opened the business in 2020. Groovy Smoovies is a classic movie-themed smoothie shop with eight movie-themed smoothies and various fruit combo drinks to enjoy while watching classic movies that are always playing throughout the day at the shop. What better place to grab a refreshing summer beverage as you stroll from shop to shop! Additional businesses that have recently made Downtown Haddonfield home include: Crepe n Shake, Crust n' Fire, Brain Freeze Ice Cream Parlor, DiBartolo European Bakery, Downtown Cookies, Mia's Meals Falafal Bar, Pizza Crime, Sparrows Gourmet Snacks, and Wanda BYOB.
A long-time favorite in Downtown Haddonfield, the British Chip Shop will transport your taste buds to Great Britain as you enjoy authentic cuisine from across the pond. Sit down to enjoy the hearty bangers and mash dish loved by many who visit this local favorite. Also, head over to Megu Sushi, the fourth South Jersey location, and get lost in the smells of simmering broth and freshly made Asian-inspired dishes. Flavors from all over the world are right here in Downtown Haddonfield. Additional international cuisines located throughout Downtown Haddonfield include: China King, El Nopalito Mexican Restaurant, Fuji, Little Tokyo, Sanook Thai Cuisine, and The Little Hen Market.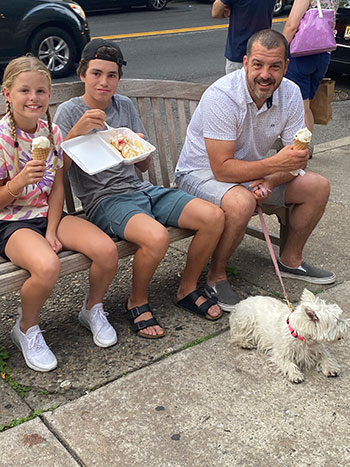 If Italian is more to your liking, Valente's Italian Specialties transformed itself in 2020 into an Italian Restaurant – Valente's Cucina. Still in its original location, Valente's Cucina has become a BYOB restaurant. There are many other Italian food/beverage establishments from which to choose, including: Mare Monte, Nicky B's Pizza, Nocella's Ristorante Pizzeria BYOB, Passariello's Pizzeria and Italian Kitchen, Tony's Pizza, and Verona Ristronate.
For vegetarians, vegans, and those who want to try new flavors, Leaf Eatery is a charming café specializing in plant-based dishes. All Haddonfield restaurants are BYOB, giving you the opportunity to bring your own selection of wine or other beverage to enjoy with your decadent meal.
William Heritage Winery, offering a variety of local wines, is planning on expanding its business to offer a larger wine tasting room and entertaining area. But if brews are more your thing, take a trip down to King's Road Brewing Company for a tavern-like atmosphere and enjoy the aromatic, seasonal flavors featured in the large variety of beers on tap. Check out King's Road Brewing Company's outdoor beer garden while you're there!
Of course, no meal would be complete without dessert! Indulge in your favorite summer treats at one of Haddonfield's finest bakeries, or cool off with tasty locally made ice cream, gelato and water ice that is sure to satisfy those cravings for sweets. Coffee shops, bakeries/dessert shops, candy shops, gelato parlors, juice bars, and ice cream and water ice parlors throughout the Downtown include: Animo Juice, Duffy's Fine Chocolates, Edible Arrangements, Gelato Dolceria, Gracies Water Ice & Ice Cream Parlor, Haddonfield Donut Company and Bakery, Jersey Java and Tea, Mecha Chocolate, Saxbys, Starbucks Coffee, Sweet T's Bakeshop, T-Swirl Crepe, TÁL32 Bespoke Confectionary and The Candy Buffet.
Downtown Haddonfield is truly the place to be for any occasion. A night out, a casual shopping day with the family, or anything in between, Haddonfield has it all. Next visit, take your pick from dozens of amazing restaurants and you won't be disappointed.