Experience Downtown Haddonfield's Spectacular Candlelight Shopping Celebration Friday Evenings During the Holiday Season!
The Partnership for Haddonfield (PfH) welcomes everyone to experience Downtown Haddonfield's spectacular Candlelight Shopping, a festive, one-of-a-kind shopping tradition for the entire family.
Candlelight Shopping will take place in Downtown Haddonfield every Friday from 6-9 p.m.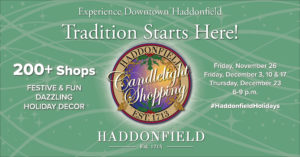 through December 17 – with a special Candlelight Shopping additional event for last-minute shoppers on Thursday, December 23.
Candlelight Shopping features Santa, carriage rides, carolers and twinkling luminarias lining the quaint streets. With over 200 shops and restaurants offering distinctive gifts and friendly customer service, businesses along Kings Highway and Downtown Haddonfield's charming side streets – which include Mechanic Street, Ellis Street, Tanner Street, Haddy Lane, Kings Court, and Haddon Avenue – welcome everyone to shop in their beautifully curated stores and find delightful holiday treasures. Discover an array of incredible gifts in distinctive shops, food/beverage establishments, and boutiques, while enjoying the festivities and town-wide twinkling décor.