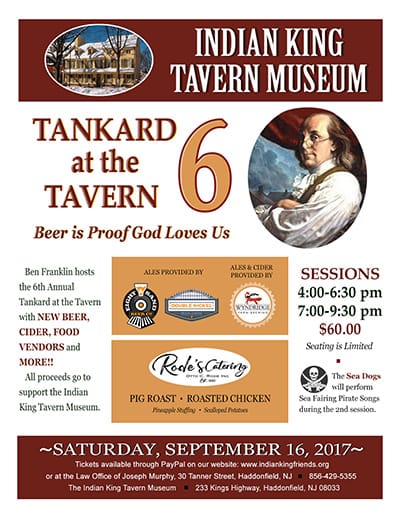 Tickets on Sale NOW for the Sixth Annual
New breweries, entertainment, and food vendors on tap
Haddonfield, NJ – After months in in the making, the volunteers from Friends of the Indian King Tavern Museum are happy to announce that tickets are on sale now for "A Tankard at the Tavern." The fundraiser scheduled for Saturday, Sept. 16 for two sessions – 4 to 6:30 p.m. and 7 to 9:30 p.m. Tickets are $60 and guests must be 21 and older to attend.
Guests will be able to sample four beers from Eight & Sand Beer Co., of Woodbury, New Jersey; two beers and two ciders from Wyndridge Farm Brewing of York, Pa.; and two beers from Double Nickel Brewing in Pennsauken, New Jersey. Debuting at this year's fundraiser is Rode's Catering, who will be serving a pig roast, roasted chicken, mixed vegetables, pineapple stuffing and scalloped potatoes.
Also, new this year will be host "Benjamin Franklin," who will be portrayed by a re-enactor at both session, while pirate band "The Sea Dogs" will play for the second seating.
"A Tankard at the Tavern" is the Museum's biggest fundraiser. The money raised benefits free events at the Tavern like the evening Open Houses during the winter holidays.
Tickets are available online via PayPal at http://www.indiankingfriends.org and at Joe Murphy's law office, 30 Tanner St., Haddonfield, NJ, 08033. Information: 856-429-5355,