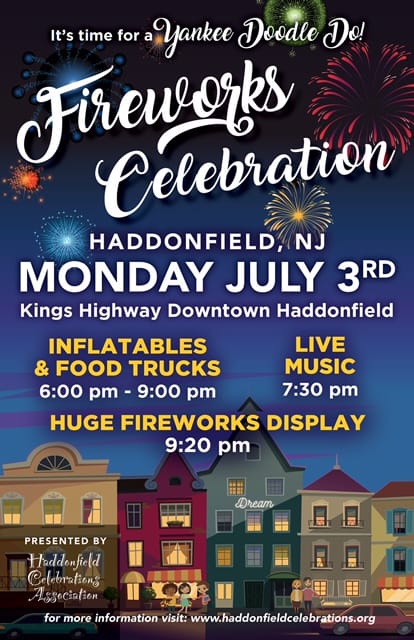 July 3
"Yankee Doodle Do"
6-9:30pm
Fun for the whole family!
Kings Highway will be closed to vehicular traffic between Haddon Avenue and PATCO.
* Food Trucks
* Music by The Shore Thing
* Inflatable kid activities activities
* Fireworks at dusk
The July 4th parade will kick off at the Corner of King's Highway and Chestnut Street at 10.00 a.m. Visit www.haddonfieldcelebrations.org for more information.
Events are funded through community donations. Your support is needed. The Haddonfield Celebrations Association, a community volunteer group, organizes three annual Haddonfield traditions: 4th of July parade/fireworks, Halloween parade, and Tree Lighting/Santa Parade. To become a volunteer or to donate, visit www.haddonfieldcelebrations.org. Donations can also be mailed to PO Box 15, Haddonfield, NJ 08033.