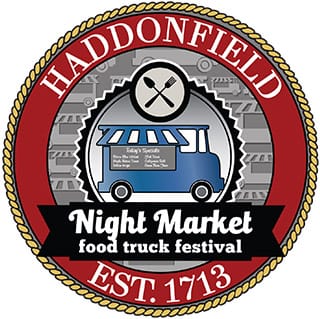 FOOD TRUCKS and RESTAURANTS! #HaddonfieldEats
Save the Date for March 30, 2017 Night Market~
THESE ARE OUR LAST EVENT'S TRUCKS. CHECK BACK TO SEE WHO WILL ATTEND THIS ONE! ALSO EXPECT LIVE MUSIC!
Trucks will be located on Kings Highway between PATCO and Borough Hall.
Loco Gringo's Street Taco Express
200 Kings Highway East
Mama's Meatballs
242 Kings Highway East
Beast of the Street
124 Kings Highway East
The Cow and the Curd
19 Kings Highway East
Oink and Moo BBQ

8 Kings Highway East

134 Kings Highway East

30 Kings Highway East

HADDONFIELD'S FARMERS MARKET
Stop at Kings Court at congratulate the vendors of Haddonfield's Farmers Market for a successful ten years. Their tents and products will be there from 4pm to 8pm in Kings  Court during Haddonfield's Night Market. 

ENTERTAINMENT!
Music will be provided by DJ Frank Staff at Haddy as well as Corner Pocket (Live!)  in the Kings Court gazebo. Check back for additional activities.

During the Food Truck event, shoppers and foodies are encouraged to take and share photos of food truck creations as they browse from truck to truck. Be sure to use the hashtag #HaddonfieldEats when posting to social media.